I love the look of wreaths on windows, indoors and outdoors. I decided last year that I wanted to make wreaths for the three windows around my morning room, but didn't get around to it. I made it a priority this year and got them done.
I struggled with how I wanted them to look. I wanted them to be festive but still simple and elegant. I purchased some supplies in my color scheme from Michael's and started playing around. I'm happy with the end result. If you want to make something similar, I can simplify the process for you.
You will need:
18 in. artificial green wreath
1 roll of ribbon (for all three)
tulle or second roll of ribbon ( I had the tulle on hand and saw it in my craft room when I started working.)
small and large glass ornaments
floral wire
glitter picks/ stems
glue gun
Start with your ribbon and weave it into your wreath by wrapping it around a stem of the wreath every 3 or 4 inches. Add the tulle or second ribbon color the same way, overlapping the first ribbon.
Next take your floral wire and run it through the hanger of a large ornament.
Wire the ornament to the top center of the wreath.
Add a smaller ornament on each side. Lastly, clip pieces of the glitter stem off and hot glue the pieces around the ornaments.
Like my work space? I work in the floor on top of old magazines and catalogs most of the time.
Hang your wreath and enjoy.
Thanks for stopping by. I'll be sharing here:
Holiday Home Link party at Centsational Girl
Homespun Christmas Link Party at OnSuttonPlace.com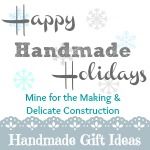 Countdown to Winter at It's So Very Cheri