This is my "Tried it Out Thursday" on Friday. Sometimes life just gets busy. I get to the blog when I can. I'm not going to complain about, we'll just move on.
I was inspired by these fabric bobby pins at
Anthropologie
: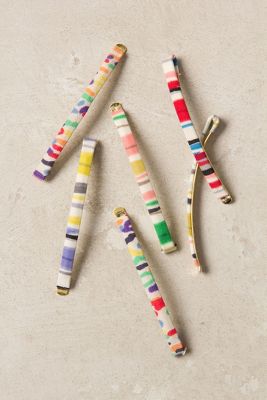 So I picked up some of these (I can't find plain gold or silver bobby slides around here, so I got these and I've been wearing the colored ones as is)
And some of these barrettes
I got some fabric strips and mod podge and wrapped the fabric around the slides and barrettes.
There are no magical steps for this and I'm not 100% pleased with the way these turned out. Working with such a small item was very difficult for me. I'm thinking of other ways to do this but I'm not sure. Maybe using a spray adhesive on the top and just laying the strip of fabric over it would work. I'm not sure. Do you have any suggestions? Please share. I'd love to hear any tips you have for making this project better.
Linking up here: