Sometimes my ideas take on a direction of their own. I was inspired by
Allison's post at House of Hepworths
to get out my tray (
purchased at Christmas
) and create an Easter/spring centerpiece. I purchased some white birds at Michael's on clearance and envisioned adding eggs and bunnies with them. (Look close in some of the photos and you may see a glimpse of them in the background.) Meanwhile I also wanted to use the glitter egg picks that I purchased from the Dollar Tree and found this cute idea at
Joann's.
When I got the egg topiaries done, the birds just didn't go with them. Oh well, when Easter is over maybe I can bring them back to the table. For now they are on a side table with a flower arrangement.
On to the topiary: this is a really
cheap
inexpensive project to do. I purchased 3 inch clay pots from Michaels' for 89 cents each, a bag of easter grass for 69 cents, and the Dollar Tree egg picks for 1.00. Not counting paint, that's less that $5! You can even get paint for 50 cents or less on sale. I used acrylic paint to paint my pots white.
I painted the whole thing and then went back and painted the rims in colors that coordinated with my eggs. I plopped in a styrofoam ball ( I actually used
these left over ornaments.)
Then I trimmed about two inches off each stick and stuck them into the foam balls. I covered each with a little easter grass and that's it.
tree topiary
.) The tray is setting on top of my
new ruffled burlap runner.
What do you think? What projects have you done that started with one picture in mind and turned out another way?
I'll be linking up to the parties on the side. Have a great week.
Also sharing here
Get Your Craft On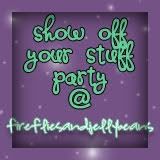 and
House of Hepworths
.